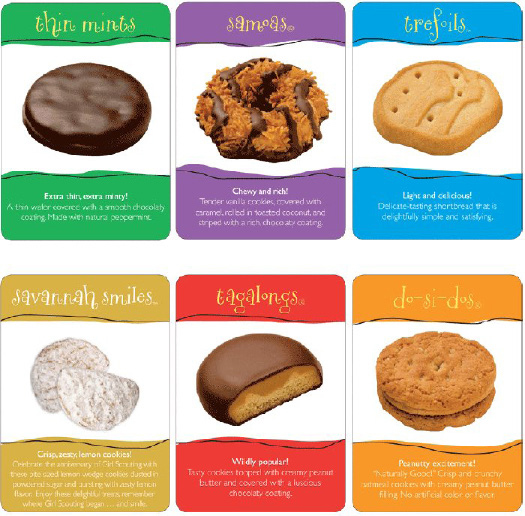 From Friday, Feb. 23, to Sunday, Feb. 25, 2018, the Girl Scout Organization will celebrate their annual Girl Scout Cookie weekend.  This organization, which commenced March 12, 1912, has around 1.8 to 2.6 million girls and 800,000 adults, according to Girl Scouts of Tropical Florida.
According to The Girls Scouts of the United States of America, Girl Scout Cookie weekend allows the girls to showcase their G.I.R.L (Go- Getter, Innovator, Risk-Taker and Leader skills) as they sell the cookies. It is also a fundraiser that would assist the girls in their activities all year-round.
The founder of The Girl Scout Organization, Mrs. Juliette Daisy Gordon Low, wanted little girls to inspire each other and become outstanding young ladies in their community.  The Girl Scout Organization is well-known for being stewards of their community and becoming stronger individuals; however, this organization may be better known for their annual cookie sales.
Each time an individual purchases a box of Girl Scout cookies, the person assists in empowering young girls to be innovative, be able to give back to their community and become well-developed personally.  As it relates to their community, they feed the poor, plant a community garden, and assist with a local animal shelter.  Essentially, the ideal goal is for these girls to develop time management skills, etiquette, essential life skills, people skills, money-making decisions, and business ethics.  It seems that purchasing a box of these cookies would be profitable because it's the foundation of girls growing to be exceptional individuals and making sound decisions.
According to an article included in The Business Insider by Megan Willett entitled "Ranked: The Most Popular Girl Scout Cookie," statistics in the year 2014 depicted that the top five Girl Scout cookies were Thin Mints, Samoas/Caramel deLites, Tagalongs/ Peanut Butter Patties, Peanut Butter Sandwiches, and Shortbread cookies.
Associate professor of Biology and Ecology at St. Leo University, Dr. Laura Altfeld, who has two daughters that were involved in the Girl Scout Organization as children, talked about her favorite cookie flavors; she mentioned that they were Thin Mints and Tagalongs.
"Chocolate and mint together is a beautiful delight," stated Altfeld.
She also mentioned that she and her daughters would sell cookies to family, neighbors, and friends when they lived in Tampa.
Additionally, three former members of the Girl Scout Organization who currently attend St. Leo University had stated that it had been great to be a part of the Girl Scout Organization.  They added that the selling of cookies was their favorite event because they felt like little business women.  The most popular cookies among these ladies were Thin Mints and Girl Scout S'mores.
As technology becomes profoundly useful, it makes purchasing Girl Scout cookies very easy.  The Girl Scout official cookie finder app called "Girl Scout Cookie Finder" locates an individual to the nearest location where they can purchase Girl Scout cookies.  Also, there is a digital cookie platform, which enables the girls to sell the cookies in a comfortable environment
The Girl Scout Organization has revolutionized the lives of little girls and young ladies to be excellent individuals in society. According to the Girl Scouts of Tropical Florida, the sales of Girl Scout cookies is one that will become even greater in the years to come. These sales seek to assist young ladies and allow them to become stewards of their community and show love to their community in warming the hearts of family, friends, and neighbors with cookies.